M4NG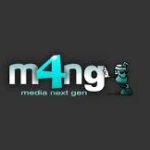 M4NG can encode and re-encode videos. It supports AVI, OGM, MKV, MPEG, MP4, FLV, PVA, M2TS, M2T, TS, DVR-MS, 3GP, PSP, iPod/iPhone 4/iPad 1 & 2 and Blu-Ray and the video formats DivX, Xvid, x264 AVC and VFW, Lossless, MPEG1, MPEG2, WMV, VP8 and the following audio formats : AC3, DTS, AAC, MP3, MP2 et OGG.
Features:
– Copying, pasting, correcting sound delays and creating a DVD video or Blu-Ray structure.
– M4NG integrates a sound encoding module from any source to MP3, AAC, AC3, MP2 et OGG (2.0 or 5.1 when the source allows).
– Managing the transfer of video and audio files between PCs and Apple iPods (classic) and Sony PSPs.
– Managing files in standard definition (SD) or in high definition (HD) as input and output.
– Subtitle integration.
Operating system: Windows
Category: Sous-titrage
Price : €0.00