Videoconference Translation And Interpretation: The Future Of International Business Relationships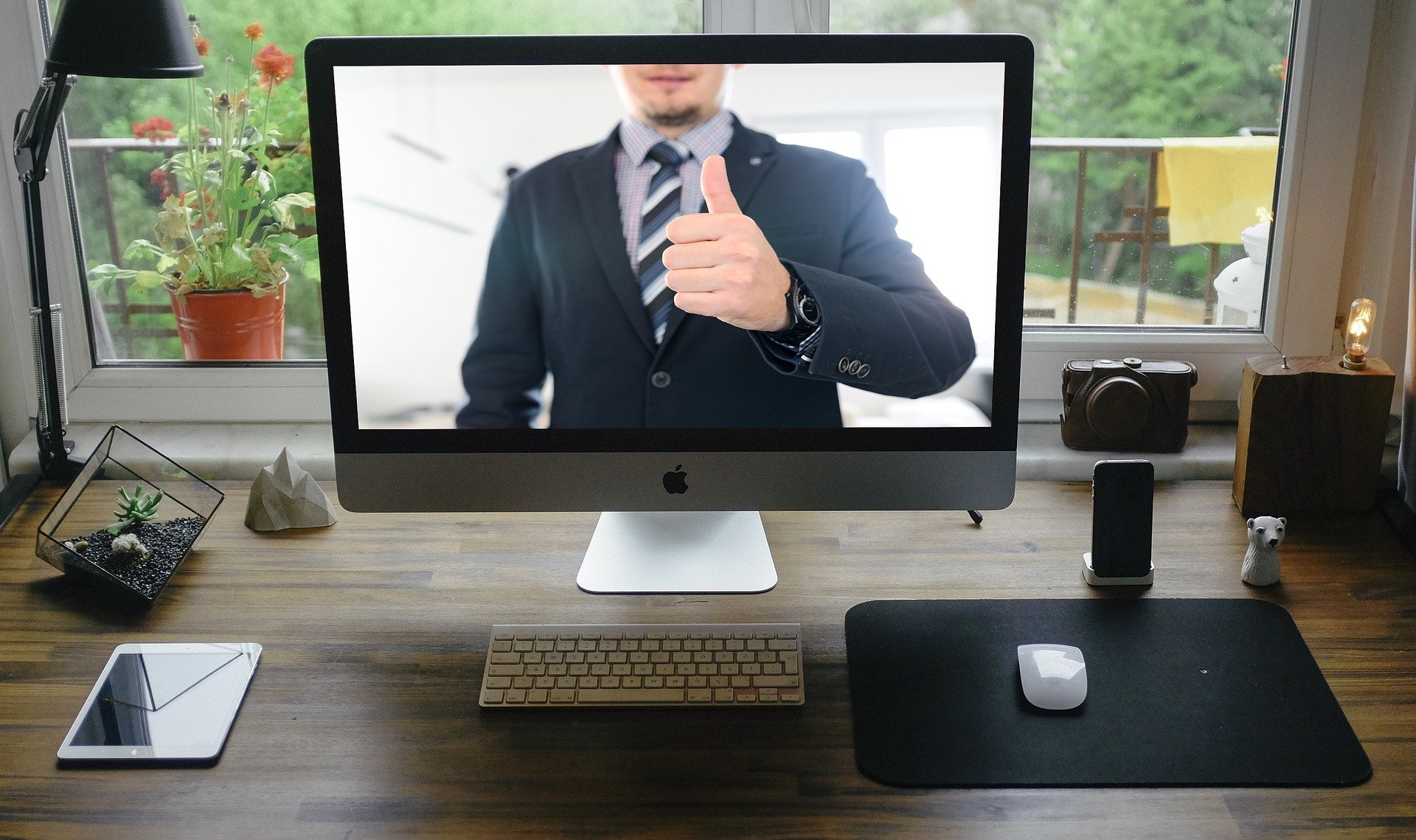 Extraordinary situations give rise to innovative changes; and while planes are grounded, videoconferencing solutions are taking off now. Once again, new technologies will allow the most responsive and best prepared decision-makers to adapt to the unprecedented circumstances lying ahead. In just a few weeks, videoconferencing has democratized and boosted international calls.
Interpretation by videoconference today allows any decision maker to communicate as easily and quickly with foreign partners as with their own country folks, whatever their language. However, there are few videoconferencing solutions that allow integration of a simultaneous interpreter or translator. We've reviewed the functionality of each and displayed them comparatively to help choose the software most suited to your work style and structure.
1/ In Chinese, the word "crisis" includes the concept of "​​opportunity"
The pandemic situation we're currently experiencing and the global confinement we're being subjected to- which will likely repeat itself- are reshuffling the deck in the world economy. It's having an inevitable impact on all industries and all company types; from the smallest to the largest no matter what their scope and structure- local, national or international.
Since the days of the industrial revolution time is money in the business world, and this is all the more true today with the globalization of trade; making time in turn synonymous with distance. Ever since entering the digital era, the demand for real-time international relationships and communication has never been so strong, in addition to being economic and strategic necessities, this new way of communicating has become a "sine qua non" condition, an element so essential we can no longer go without it in personal and professional exchanges.
Since the start of the pandemic, changes have inevitably ushered in a new era due to temporary or permanent closings of some road, rail and air travel logistics. Reduced travel, and especially business travel, now becomes a new essential parameter to consider with companies' strategic choices.
Just as the internet has given local small businesses the chance to sell their products and services worldwide, videoconferencing is now an extension of this new and developing dynamic.
2/ Videoconferencing, or how to adapt your work to new mobility restrictions?
Simply contacting anyone around the world while speaking their own language is an opportunity.
Continuing to establish and develop links without limit of distance or language is what we promise, using a plethora of videoconferencing software; because nothing compares to a personal conversation or physical meeting, and videoconferencing comes closest to this kind of communication.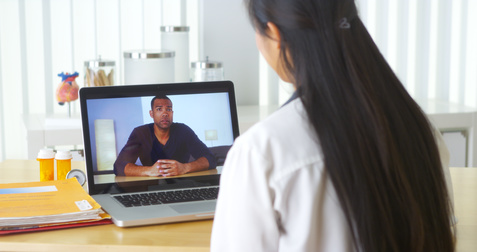 With the distancing measures taken to stop the spread of coronavirus, videoconferencing software has enabled millions of employees, executives and entrepreneurs
across the globe to continue working and collaborating, making videoconferencing an essential tool for communication. From local SMBs to government agencies, health and education organizations, it's proving truly vital for teams of all types and sizes.
For example, the use of ZOOM software exploded within just a few weeks with the spread of telework.
In Europe, the number of downloads for example quadrupled with 6.5 million users at the end of March, according to Sensor Tower, an organization that measures the popularity of applications.
But beyond simply an intra-company solution, it's a safe bet the value of this functionality will soon extend further to all types of international trade, whether cultural, commercial, legal, diplomatic… etc.
Communicating and exchanging information live and in real-time is the key. But communication relies on more than just the technological mediums available, the message quality, and forging trusting relationships; it requires the sensitive awareness of cultural and linguistic variations for all speakers. The more global a network of exchanges, the more crucial it becomes to recognize and respect local speech customs through language, social etiquette and politeness norms, the importance of hierarchical relationships for some, and the business customs native to each community.
3/ Simultaneous translation and interpretation: a guarantee of responsiveness and efficiency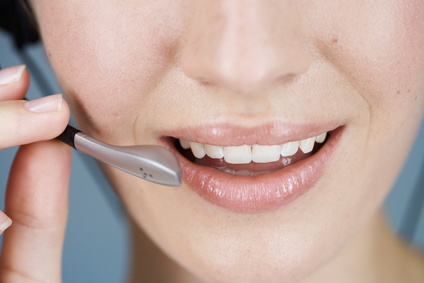 The quality of spoken interpretation and translation is the keystone for successful exchanges, and can't solely rely on translation software; only a professional interpreter or translator can provide responsiveness and finesse in interpreting subtle meanings and messages so specific to each language.
Languages ​​like Japanese or Chinese, while different from each other, are both characteristically very colorful in expression and use a system other than the alphabetic code. Any interpretation or translation into these languages ​​requires a competent and seasoned professional translator for business, to understand the real intention of the message and to convey it in the most appropriate way, both linguistically and culturally.
That's why we want to give our overview of some top videoconferencing solutions currently available on the market, because the trick is choosing one application over another when in theory they all seem to perform closely, more or less. Our selection here, while not exhaustive, does aim to show the diversity of platforms, software or services enabling videoconferencing.
This overview will help users understand and determine specific needs according to the types of meeting and communication, to make the best choice from among the most popular to the most secure and confidential videoconference solutions.
For this, we've started by selecting some of the most popular and comprehensive technical videoconferencing tools, followed by online interpretation services.
Comparing and contrasting the benefits for these two types of solutions will help you make the most relevant choices for your specific communication need and videoconference tool use.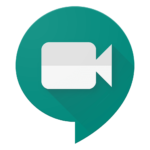 Google Meet
Formerly known as Hangouts Meet, Google Meet is a videoconferencing tool found inside G Suite, Google's cloud-based office suite.
The G Suite associated with Google Meet allows you to link your meetings scheduling to a Google calendar, as well as to all its other tools and apps on Google Drive which includes Google Docs, their web-based word-processing software; Sheets as their spreadsheet app, and Slides as their presentation app.
This suite allows you to create and modify documents online while working in a real-time team setting.
Accessible from a computer, tablet or smartphone, Google Meet is a free, easy-to-use videoconferencing tool for the general public and for businesses. To invite participants, simply send a link or a meeting code to everyone you want to join the event. To participate in a meeting, simply click on the meeting link in the invitation. or call the meeting using the number and type the code provided by the host. In the paid version, its use does not require any specific installation since participants' access is via a simple link without prior registration, creation of an account or installation of any plug-in.
There are several paid versions of Google's G Suite including Premium, which offers options ranging from live streaming to recording meetings and organizing large meetings for up to 250 participants. Here, the shared presentation can display a split-screen mosaic with up to 16 of the most active participants simultaneously.
Google Meet is easy to use, requiring no installation for the web. The app is available via different browsers like Chrome, Safari, the latest Edge version and Firefox. With Hangouts Enterprise, a phone number is generated to reach participants (especially useful if participants don't necessarily have access to an internet connection).
Their service does not offer an interpreter function, but any translations can be generated by Artificial Intelligence on chat.
Google's videoconferencing tool is particularly focused on security by integrating data encryption during calls and meetings. In their words, "Google undertakes not to use personal data on Meet, nor to listen to conversations in order to 'refine the profiles of its users'," relayed the newspaper Le Figaro.
On the official site it is specified that; "Meet does not include any features or software to track user attention", plus reassuring users that "customer data is in no way used by Meet for advertising purposes," and finally stating "Meet does not sell customer information to other third parties".
This of course can imply that Google has the technical ability to do so; are these promises really reassuring then? We'll let you be the judge.
Our suggested use: Suitable for conference style calls, meetings and events, plus also for teleworking and large team projects.
Prices: Google Meet is free, with a 14-day free trial for G Suite and various G Suite plans including- Basic: $6 / user / month, Business: $12 / user / month, Enterprise: $25 / user / month.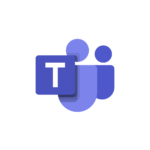 Microsoft Teams
Since Microsoft's acquisition of Skype, Skype for Business has now become Microsoft Teams and is one of the "behemoths" of today's videoconference communication tools.
Beyond just videoconferencing software, Microsoft Teams is a practical and fairly complete collaborative platform for online meetings, file transfer and storage, and instant messaging between team members or any other working group.
This videoconferencing software is integrated into the Microsoft Office 365 suite but is also available on its own, in free version.
The main advantages of its integration into the office 365 suite is that it makes it possible, among other things, to share and modify any MS application files like Excel, Powerpoint, Word and more, allowing real-time project collaboration between people on the same team.
If you don't have an office 365 subscription, you'll first need to download the software to your computer or device.
Available on computers and mobile devices iOS and Android, this tool is safe and secure with a free version available including unlimited conversations, audio and video calls for individual, group and whole team meetings. Plus integration of unlimited applications with over 140 professional applications to choose from, including Adobe, Evernote and Trello, sharing and storage of personal and team files, real-time collaboration with Office, screen sharing and even personalized backgrounds.
Teams (discussion groups in Teams) can host up to 999 people on a call if needed.
The software is currently available in ten languages ​​but does not offer an interpreter function.
One of the great benefits of Teams for businesses is security, authentication and compliance integration in the same way as Office 365. The tool also offers access controls or DLP (data loss prevention), to avoid sharing sensitive customer information beyond a select group of employees.
Our suggested use: As the name suggests, Microsoft Teams is designed to bring together people who work in close collaboration, particularly suited to teleworking and communications within the same organization.
Prices: Microsoft Teams free version, Microsoft 365 Business Basic at $5 / user / month (annual subscription), Microsoft 365 Business Standard (Formerly Office 365 Business Premium) at $12.50 / user / month (annual subscription) and finally Office 365 E3 at $20 / user / month (annual subscription).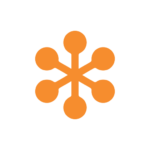 GoToMeeting
Created by LogMeIn, a U.S. company based in Boston, GoToMeeting is a videoconferencing software included in the range of GoTo products and business solutions which includes GoToConnect unified telephony and meeting software, GoToRoom intuitive material for conference rooms, OpenVoice audio conferencing focused on audio technology, GoToWebinar to organize events, and GoToTraining intra-company training software.
Except for a few details, the GoToMeeting videoconferencing software offers the same functionalities as its big competitors such as screen-sharing from your computer, smartphone or tablet.
An online meeting can be hosted from any mobile device, with the ability to manage the meeting settings through face-to-face videoconference in HD including functions of real-time recording as well as note taking, enabling hosts to share everything at the end of the meeting.
Also noteworthy is GoToMeeting's integration with Slack, Google Calendar, Office 365 module (calendar only) and Salesforce to help schedule, launch or manage meetings.
GoToMeeting's special feature is taking into account any constraints on the user side, since the tool adapts and synchronizes automatically with the bandwidth and equipment of the participants so the experience quality is as optimal as possible, without interruptions or other technical problems.
On the security side, all exchanges are encrypted from start to finish, still keeping in mind all data stays stored within the United States.
This solution makes it possible to connect several participants located anywhere in the world from any platform or the operating system: Mac, PC, iOS or Android.
The software is available in English, Spanish, Italian, Brazilian Portuguese, Danish, French, German, Italian, Dutch and Swedish, but does not offer an interpreter function at this time.
Our suggested use: This tool is particularly suitable for teleworking in a common language anywhere in the world, especially when internet connection for participants is not stable.
Prices: A 14-day free trial, Professional Package: $12 / organizer / month up to 150 Participants (annual subscription), Business Package: $16 / organizer / month up to 250 Participants (annual subscription), Enterprise Package: up to 3,000 participants, but you'll need to call their sales department for custom rates and bundled savings on their solutions.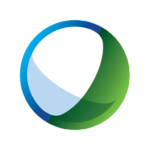 Cisco Webex
A Cisco Systems product, Webex is a U.S. videoconferencing software usable from a mobile phone, a tablet, a laptop, or a Mac, and compatible with a wide variety of platforms and collaboration software.
After activating a free account, meetings are organized with a single click, making it very easy to invite up to 100 participants and communicate documents with full or partial screen sharing regardless of device. The "Guest" simply answers upon receiving a new call to join a meeting. There's no need to download any additional software since everything happens right inside the browser, and conversations are protected from start to finish. Webex offers the option to record meetings in the cloud, with the added ability to later share recorded meetings via MP4 video file format, sent right over email.
This tool places extra emphasis on improved audio quality by limiting interruptions through background noise detection and helpful user suggestions for microsoft sound muting.
For larger community functionality integration with Facebook Live exists, enabling the sharing of meetings with its platform subscribers. Webex software also supports MS Calendars, Outlook, Office 365, Google, etc. as well as other tools like Salesforce, Microsoft Teams, Slack, Canvas, and Moodle.
Webex software is available and accessible in about fifteen languages ​​from the home screen, however it does not provide any translation solution or interpreter function.
Our suggested use: This secure cloud collaboration platform is perfectly suitable for teleworking, event communication and distance learning.
Prices: A free version; Starter plan at $13.50 / month / host (for small teams), Plus plan (for medium-sized teams) $17.95 / month / host, and Business plan (for large teams and large companies) $26.95 / month / host.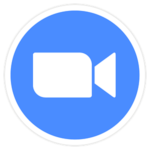 Zoom
The number of daily users for Zoom video conferences skyrocketed up, from 10 million in December 2019 to 200 million by March 2020, as the founder of Zoom announced on Wednesday April 1.
Becoming one of the market leaders, ZOOM was created in 2011 by Eric YUAN, one of the founders of Webex which he later sold to CISCO in 2007 for $3.2 billion dollars. Its headquarters are currently based in San Jose, California.
ZOOM presents itself as a fully integrated platform: easy to use, non-proprietary in terms of protocols, fully compatible with other manufacturers, and accessible to all users on PC / Mac / Linux- as well as on "nomad" devices like tablets and smartphones.
The company offers several communication services: conference room manager (Zoom Rooms), a cloud telephone system (Zoom Phone), a tool for hosting webinars (Zoom Webinars) and best of all, the tool of highest interest here: Zoom Meetings for online meetings.
Small kink concerning recent security flaws, but the new version of the application published April 8 has since included several enhancements intended to strengthen security and privacy, as the company outlines in a press release.
Note that it's key to ensure you download the installer from their Zoom official sites, due to a pirated version which is currently being spread by phishing.
Despite this, it's easy to understand the recent explosion in the number of users, mainly due to the ease of use of the tool and also the general confinement we're all experiencing.
Indeed, the ZOOM interface is intuitive and designed to look more airy and sober than its competitors, which can be a pro or a con depending if you prefer high-tech office options or high-quality audiovisual communication. Starting from a presentation on-screen, users can then:
Invite new participants
View the list of participants
Share their screen
Start a chat window discussion
Record their screen
Share reactions
What truly sets ZOOM apart from its competitors is the ability to incorporate interpreters into meetings or webinars by simply activating a language interpretation function. This way, the organizer can simply designate participants to be interpreters on the Web portal or during a Zoom session.

When the meeting or webinar starts, the interpreters access their own audio channels. Participants can then choose an audio channel to listen to the language of their choice. Participants hear the translated version and can also choose to hear the original version at a lower volume.
Then conversely, to hear only the interpreted language users just need to "cut the original version".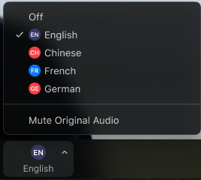 Zoom is the only tool with an interpreter function that brings the meeting closest to the experience of a live, in-person real-time interview.
The following languages ​​are supported on the Zoom website, whether for the paid versions or the free version: English, Chinese (simplified and traditional), Japanese, French, Spanish, German, and Portuguese.
Our suggested use: webinars, multilingual events and meetings focused on the relationship and genuineness of exchanges between employees, customers and suppliers.
Prices: Free plan, Pro plan $14.99 / month / host (up to 9 hosts), Business plan $19.99 / month / host (10+ hosts), Enterprise plan $19.99 / month / host (100+ hosts).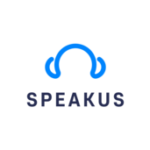 Speak Us
Speak Us is a cloud-based, real-time, live and remote interpretation and translation platform.
This Russian company offers, via a bilingual English and Russian website, to connect speakers, interpreters and the public on a SaaS platform (Software as a Service), meaning that no professional equipment is required to use these services.
Software as a Service (SaaS), or "Logiciel en tant que Service" in French, is a software distribution model where a third-party provider hosts the applications and makes them available to its customers via the web.
In addition to online videoconferencing, Speak Us can produce a live translation via application on smartphone and tablet.
To use these videoconferencing interpretation and translation products, you must first install the application. Then, just scan the code for your participating conference to gain access to your meeting in the language of your choice. The ability of several interpreters working simultaneously allows you to create truly multilingual events.
The company's exact type of system design is not described on their site.
Still, the Speak Us service lets you organize events of any size and type including conferences, forums, summits, conventions, shareholder meetings, hearings, face-to-face seminars and online seminars. To access your event you must download the application and enter the corresponding access code.
Our suggested use: These features make SPEAK US more suitable for multilingual webinars.
Prices: Estimates available by consultation; their prices are based on the amount of time and service type used.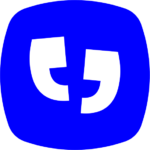 Ibridgepeople
Ibridgepeople offers a technical "hub" which includes an interpreter and server "hub" as well.
The objective of this platform is to organize turnkey events by placing event agencies directly in touch with interpretation agencies and their interpreters, making it a service fairly well adapted to convention-style events or conferences, exhibitions or multilingual fairs.
The technical characteristics described allow:
– To present videos, to share documents or to write live shared and then saved notes.
– To carry out a discretionary vote in real time, visible to all.
– To switch between workshops and the main meeting.
– To choose the layout of the information blocks on your screen.
– As an option: A written transcription of all spoken dialogue via A.I. (Artificial Intelligence), and the recording of audio tracks by language or in full (audio + visual) for later replay.
Ibridge's interpreting service can replace an interpreter on short notice with its "hub."
Their e-conferences include a written chat with instant translation by AI in 10 languages.
Our suggested use: Fairly suitable for events like conventions or teleconferences, exhibitions or multilingual fairs.
Prices: available on estimate depending on the languages ​​chosen, the type and size of the event.
To summarize…
It's obvious that videoconferencing is totally changing the way we communicate and work. That said, not all videoconferencing solutions are created equal, and must be carefully chosen according to the objectives and physical conditions of these virtual meetings.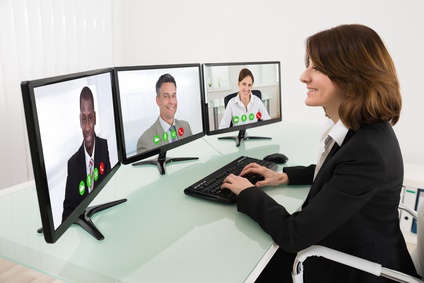 The modest review we've shared here clearly highlights that most of the leaders in the field have angled their products towards collaborative teleworking and office automation. Even if translation and interpretation solutions are possible in each of these software applications, it's crucial to understand the difference in interactions enabled by simultaneous exchange with an interpreter, versus a translation on Smartphone, or one via chat, or one generated by Artificial Intelligence. This difference is the added value that interpretation agencies bring to businesses, by directing them to the videoconferencing solution best suited to their communication goals.
Since we've studied them all in detail to determine which of these solutions best integrates one or more interpreters into a meeting, to simulate conditions as close as possible to an in-person interview, we decided to choose Zoom. After two months of intense use with several of our customers during the confinement period and in various linguistic combinations, in its Pro version the Zoom application clearly seems to have been designed to enable simultaneous interpretation along with an excellent experience.
Atenao has its own Zoom virtual room, so you don't need to have a paid account to organize a meeting since we do it all for you. Simply set up and schedule your meetings, and just let us know the dates. We'll send you access links for each participant in advance, and on your scheduled day our interpreter (or team of interpreters) will join your meeting a few minutes prior and work with you online until its conclusion.
It couldn't be simpler.
Contact us now or request a quote for your future videoconference interpretation project.