Interpreting Equipment
Equipment rental and technical assistance are provided by our external associates. Simultaneous interpretation always requires specific equipment, since there's only a few seconds between what the speaker says and the oral translation by the interpreter. The interpreter must therefore translate at the same rate of speed as the speaker. Closed off in a booth and equipped with headphones in order to concentrate, they talk in the translated language at nearly the same speed as the speaker.
Interpreting in a booth
We can offer our clients mobile booths appropriately soundproofed and ventilated per current European standards. If you have booths on site, ensure that the interpreters have a good view of the platform and the screen in the room. Each booth will be equipped with a lectern and each interpreter will have individual commands, a microphone, a speaker and a reading lamp.
In each booth there will be a team of 2 or 3 interpreters (3 for Arabic or Asian languages, or if the subject is complex such as at medical or financial conferences).
Lecterns
The interpreters can program the incoming language via five preset "relay" buttons (with a corresponding green LED). In order to set up, the interpreter holds down the button to be programmed and chooses the desired language using the UP and DOWN buttons. When the interpreter releases the button, the language is programmed. The relay is then activated by clicking on this button.
On their LCD screen, the interpreters can see the quality of the incoming language to distinguish between the original language and the translation. This allows them to avoid indirect interpretations as much as possible.
Sound controls
When simultaneous interpretation is necessary, the sound controls allow us to direct the different audio inputs from the speaker to the listener, using the different technologies available. These units receive the signals generated by the transmitter or digital sound controls and broadcast the different interpreting channels to the stereo headphones. This means that conferences featuring up to 32 languages are possible thanks to digital infrared broadcasting. These two systems can be controlled via PC. This requires the participation of our technical team.
Fixed equipment
To ensure your event is a success, we can provide you with a one-stop solution, comprising interpreters, equipment, a coordinator and technical support.
We are here to help and advise you on the equipment best suited to your meeting: fixed equipment (booths) or portable. As well as on the equipment adapted to the number of participants, room layout, meeting type: conference microphones, loudspeakers, podium microphones, sound system, recording.
Booths and lecterns
AUDIPACK booth
ISO 4043 standard
2 or 3 seats (5.5 ft or 7.8 ft x 5.5 ft x 6.5 ft)
BOSCH DCN NG interpreter lectern
Up to 31 languages

Conference microphone
Double channel selector
1 microphone between 2 people
Audio system through speakers (and/or headphones)
PC-controlled system
Up to 240 stations
Up to 31 languages
Unaffected by GSM waves
Built-in 'Chairman mode' function
For interactive 'U' or 'class'-type committees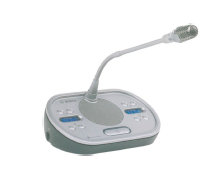 Infrared reception system
BOSCH DCN-NG and INTEGRUS.
Excellent sound quality
Advanced digital technology
INFRARED for freedom of movement for representatives
High frequency range
Unaffected by light interference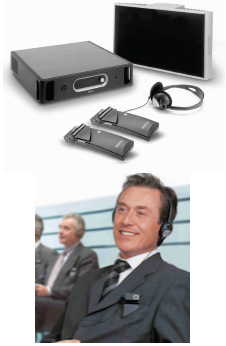 Portable Booth
Total weight of booth: 20,5 kg
External dimensions: 1200 x 570 x 730 mm
Flat-pack foldable for easy carriage
Large front and side glass panels
Table with noise absorber
5 mm abrasion-resistant polycarbonate glazing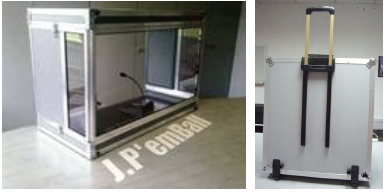 Portable equipment
Portable audio equipment, commonly known as "bidule", is an audio gadget used for booth-free simultaneous interpreting. The interpreter, who is not isolated from the rest of the room, is equipped with a microphone and sometimes earphones.
The "bidule", or simply "gadget", is a handy piece of equipment which can be moved as the listeners move (for example, on a tour). Its disadvantage however, is that it does not provide any soundproofing. It should therefore only be used for small groups or in a meeting room with appropriate acoustics, as well as when meeting conditions warrant it (short meetings, or when consecutive interpreting is not needed).
Using a gadget does not necessarily mean reducing the number of people in the team.
Wireless handheld transmitter
The SKM 2020 D wireless handheld transmitter is robust, and simple to set up and use.

Stetho-set receiver
The HED 2020 D stetho-set receiver uses a liquid crystal display to show all key information (receiving channel, quality of reception, level of charge of lithium polymer rechargeable battery, and current volume level).
The receivers stand out due to their ease of use and comfort. The toggle button allows you to change channels quickly and easily. The system can be extended at any time with extra receivers.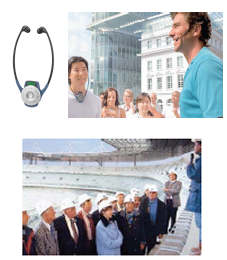 TASCAM SS-R200 recorder
Digital stereo recorder
USB, SD, COMPACT Flash
WAV, MP3
I/O XLR and RCA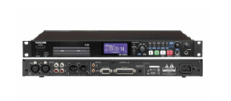 Interpreter receiver
SR2020 + EK2020.
Simple and direct audio reception
6 selectable frequencies
Very good sound quality
Mono only
Mini-jack connector (3.5 mm)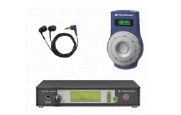 Headset microphone
Omnidirectional polar pattern (4066)
Cardioid polar pattern
Excellent sound quality
Compatible with Sennheiser or Shure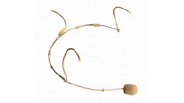 Lectern, speaker
Lectern
2 swan neck podium microphones
90W loudspeaker/ 1 HF microphone (wireless)